ANNUAL AND FIVE YEARLY INSPECTIONS OF LIFEBOATS AND DAVITS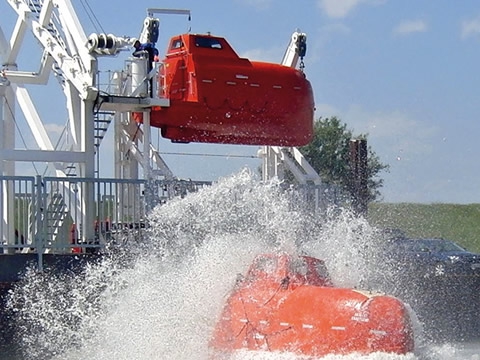 When it comes to inspections and repairs of lifeboats and davits, we are the leading company in Spain, Portugal and France.
We ensure the availability of our service engineers 24/7.
Our workshops  and our engineers are fully equiped and trained to carry out services such us:
   - Annual and 5-years services on lifeboats, rescue boats,  launching appliances and release gears of davits, constantly attended by skilled and expert engineers.
   - Installation, commissioning and testing.
   - Load test with our own water bags.
   - Maintenance and repair.
   - Hook replacement in accordance with MSC.1/1392
   - Fiber glass cosmetic repairs.
   - Overhauling of hooks and maintenance of release systems.
We are approved by makers:
Hatecke, Global Davit, Hyundai, Oriental Precision.

If your equipment's manufacturer is not in our approved list, IBERIA LS can perform the service under flag of authorization and supervision of the ship´s class society surveyor .
Please do not hesitate to contact us, we are looking forward to be a good service for you.  
We are located at Base Ports; Barcelona, Valencia, Algeciras, Cadiz, Lisbon and Marseille covering all Ports of Spain, Portugal and France.