INSPECTIONS AND MAINTENANCE OF FIRE FIGHTING SYSTEMS, GAS CALIBRATIONS AND LIFE RAFTS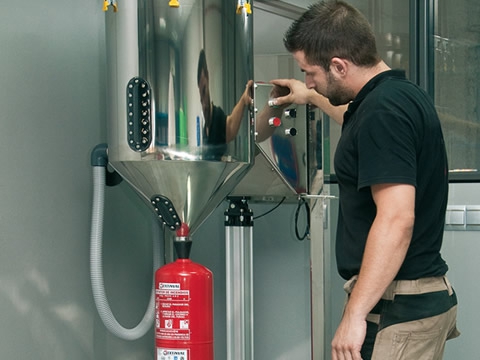 INSPECTIONS AND MAINTENANCE OF ALL TYPES OF FIRE FIGHTING SYSTEMS

All these services are vendered through professional and experienced subcontractors under special agreements offered directly by IBERIA LS to final costumers:Inspections, refills and hydrostatic test of all type of extinguishers.
Complete inspections of CO2, foam, powder, water mist and other type of fixed extinguishing systems. Also provide foam analysis by special laboratory.
Inspections of fire alarms and sprinklers.
Inspections, refills and hydrostatic test of breathing apparatus, air escape sets and medical oxygen cylinders.

Inspection of life jackets.
Inspection of immersion suits and survival suits annual and 3 yearly services.
Inspection of hydrostatic test of fire hoses.
Inspection and maintenance of pilot ladders and embarkation ladders.
Inspection and maintenance of air compressors including air quality test compressors.

GAS CALIBRATION

Through subcontractors, IBERIA LS has get into the complex world of gas detection as an important component in keeping enclosed places safe, offering calibrations and inspections on PORTABLE AND FIXED GAS SYSTEMS, UTI METERS AND ALCOHOL TESTERS in the ports of Spain and Portugal, those are available in the port Valencia and very soon also  in Algeciras, from these locations will cover any other port that requires gas calibrations.Supply the new RKI and Honeywell portable and fixed gas detectors.IBERIA LS is at your disposal to help you with the right model for each situation and it will offer directly these services to the final costumer.

INSPECTION AND REPAIR OF LIFE RAFTS

Through subcontractors and finally offer by IBERIA LS to costumers, we can offer inspection, maintenance and repair of the most important manufacturers of life rafts such as: VIKING, RFD, RFD TYO, RFD SURVIVA, RFD BEAUFORT, DSB, AUTOFLUG, FUJIKURA, ZODIAC and EUROVINIL.

Those partners are duly authorized by classification bodies such us Bureau Veritas, Rina, Germanischer Lloyds, Lloyds Register and Det Norske Veritas, to carry out all the aforementioned jobs. Life rafts are normally in stock available in base ports for sale and  rental purposes.